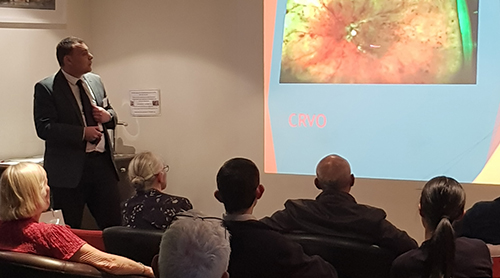 On 27th November, Peninsula Eye Centre proudly hosted the "Clinical Update – November 2018" CPD event for our local optometrists.
Dr Elvis Ojaimi presented on the topic of "The latest in surgical and medical retina" which covered the latest techniques in Vitreoretinal surgery, including images and discussion around surgical and medical retinal conditions.
Dr Suki Sandhu presented on "Central Serous Chorioretinopathy (CSC)" and discussed the diagnosis and treatment of CSC.
Dr Rick Wolfe spoke about "The irregular cornea", explaining the many causes of corneal irregularity, including keratoconus.  The discussion covered the management of these causes in optometric and surgical practice.   
The CPD accredited event provided optometrists with up-to-date clinical information.  Thank you to our guest optometrists for participating in these valuable and important discussions in the area of ophthalmic patient care.