COVID-19 Update: We are OPEN and COVID Safe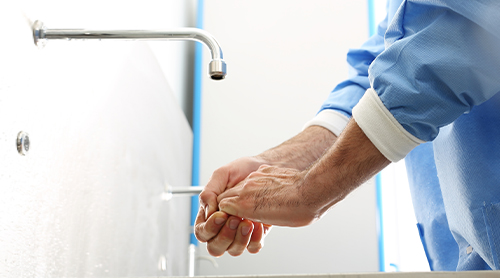 Updated February, 2023.
At Peninsula Eye Centre, we are monitoring the current COVID-19 situation very closely and would like to assure our patients and referring optometrists and GPs that we are OPEN and continuing to provide essential eye health services, as advised by health authorities and RANZCO.
During this time, it is important for all patients with existing eye conditions and/or new symptoms to seek attention from an eye care specialist.  In particular, patients with chronic eye conditions such as glaucoma, macular degeneration and diabetes are urged to prioritise their eye care appointments, as missed or delayed treatments can lead to irreversible vision loss.
Our doctors are also consulting by phone via telehealth, when appropriate.
We have implemented a comprehensive COVID Safe Plan and, as always, your safety is our top priority. Please allow 1.5 hours for your specialist appointment.
The standard precautions prevail, and if you are unwell with any symptoms of COVID-19, stay home and get tested.  Maintain good hygiene – wash your hands regularly and cover your mouth when you cough or sneeze.  Keep your distance – remain at least 1.5 metres away from others.
How are we keeping everyone safe?  Please be sure to read our COVID-19 Visit Guidelines below before leaving home so that you know what to expect when you arrive.
COVID-19 VISIT GUIDELINES
At Peninsula Eye Centre, we are committed to keeping our patients and team members safe and we continue to observe strict infection control protocols and social distancing measures. 
To prevent the spread of COVID-19, we have in place a COVID Safe Plan and the following protocols and measures:
Increased Infection Control Procedures
In addition to our regular high standard of infection control and sterilisation, we are taking the following precautions:
All patients, visitors and team members are required to wear a mask while at the clinic, if social distancing cannot be achieved.  A mask can be supplied if needed.
Increased sanitation of hard surfaces in highly trafficked areas such as reception, waiting areas, clinical and consulting rooms
All clinical and consulting rooms are sanitised after every patient
Patient seating in the waiting areas has been spread out
Protective screens installed at reception
Slit lamp shields installed
Additional hand sanitisers are available to be used in waiting area, reception, clinical and consulting rooms
Removal of magazines & books
Removal of coffee and tea cups and replaced with single use, disposable cups
Limiting Traffic Inside the Clinic
We advise that only scheduled patients will be allowed into the consulting rooms and clinical areas and ask that support people (unless required for interpretation or mobility assistance) and family members don't enter the clinic unnecessarily.  We are happy to phone a support person to return to pick up the patient, if needed, at the conclusion of the appointment.
At certain times, patients may be asked to wait in their cars instead of the waiting areas.  We will call patients by phone to let them know when it is their turn to be seen.
Screening Patients 
Please call us to reschedule your appointment, and do not enter to the clinic if you:
have recently had a COVID-19 test and are waiting for your result;
have tested positive to COVID-19;
are unwell with any COVID-19 symptoms such as fever, shortness of breath, cough or sore throat;
have been in contact with a confirmed or suspected case of COVID-19
or any member of your household, who you are in direct contact with, has been directed to isolate.
In light of the locally acquired cases of COVID-19 reported across Victoria, we are urging all patients and visitors to check the updated DHHS Checklist: What to do if you test positive to COVID-19 or if you've been told you are a contact.  As instructed by the DHHS, if you have tested positive or if you are a contact, you must follow the relevant instructions.  You must not enter the clinic.
Team Members' Health & Safety
Team members must stay home if they are showing any signs of illness, even if mild, and will not return to work until it is deemed safe to do so by their doctor.
We appreciate your full cooperation in this matter and thank you for continuing to help us maintain a safe and healthy environment.
More Information 
For information on the current restrictions in Victoria, please see link: https://www.dhhs.vic.gov.au/coronavirus or call the COVID-19 Hotline on 1800 675 398.
And… An Important Message About KINDNESS
One of the most challenging parts of dealing with the past 2-3 years is the uncertainty!  The pandemic situation has made it difficult to plan holidays, work commitments, celebrations, events… and appointments.
The many layers of pressure caused by these disruptions affect us all in different ways.   If are you are feeling upset or offended by us requiring you to follow the COVID-19 Visit Guidelines, for an unexpected delay or for any other reason, please take a moment to pause… and consider the impact your words or actions have on others – it would mean a lot to our team members, who are required to deliver the information to many people every day.  
It is exhausting for everyone – but please let's show each other kindness and compassion.
As always, we are committed to providing you with the highest possible standard of patient care.  If you have any feedback about your experience at our clinic, please let us know by completing the Patient Feedback Form .  Your input is very valuable to us and will help us to improve our service.
Worksafe Victoria has recently released a campaign called "It's never OK" to help bring awareness of the impact of unacceptable behaviour experienced by workers across a variety of industries. For more information please see: https://www.worksafe.vic.gov.au/itsneverok