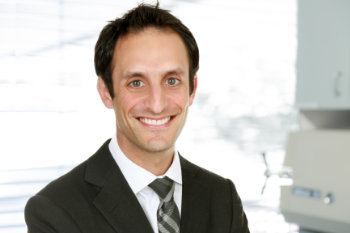 Ophthalmologist
BMedSc(Hons) MBBS(Hons) MPhil MChir PhD(Cantab) FRANZCO
Dr Justin Sherwin is an ophthalmologist with special interest in cataract and lens-based surgery. He also manages common chronic diseases in adults including glaucoma (performing laser and minimally-invasive surgical approaches) and retinal conditions (macular degeneration, diabetic macular oedema and retinal vein occlusion) for which he performs intravitreal injections when necessary.
Dr Sherwin is passionate about matching your lifestyle to your visual requirements. He offers all lens-based refractive solutions including refractive-lens exchange (RLE) for younger patients without cataract, and often uses the latest premium intraocular lenses designed to increase spectacle independence. Cataract surgery is often performed in eyes with additional pathology, including glaucoma and macular degeneration, and in eyes with previous refractive surgery.
He attended Monash University medical school and completed an honours year at the Centre for Eye Research Australia. Additional postgraduate degrees (Masters and PhD) in epidemiology and eye research were completed at the University of Cambridge, UK. Dr Sherwin's ophthalmology training was primarily based at the Royal Victorian Eye and Ear Hospital (RVEEH), Melbourne. Sub-speciality fellowship training in cataract and glaucoma surgery was undertaken in Oxford, UK. He has been awarded numerous prestigious awards, scholarships and research grants. From his research, he has over 50 peer-reviewed publications and has presented at many national and international conferences.
Dr Sherwin holds a public appointment at the Royal Victorian Eye and Ear Hospital (RVEEH) where he supervises specialists-in-training. He operates privately at Beleura Private Hospital, next to Peninsula Eye Centre, Mornington.