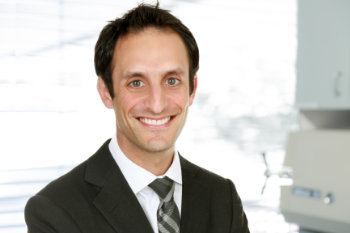 Ophthalmologist 
BMedSc(Hons) MBBS(Hons) MPhil MChir PhD(Cantab) PgDipCRS (Dist) FRANZCO
Dr Justin Sherwin brings years of care and expertise to patients on the Mornington Peninsula. He is a highly trained, skilled and experienced ophthalmologist with a special interest in cataract and refractive surgery.
At Peninsula Eye Centre, Dr Sherwin offers a wide range of treatments to address your eye health needs:
Cataract Surgery (including use of premium intraocular lenses to match your lifestyle)
Lens-based Refractive Surgery, including Refractive Lens Exchange (RLE) and Phakic Intraocular Lenses (Implantable Collamer Lens)
Intravitreal injections for Macular Degeneration, Diabetes and Retinal Vein Occlusion
Comprehensive Glaucoma management (including laser and surgery)
General Ophthalmology problems (e.g. pterygium), and minor eyelid procedures (e.g. chalazion)
Dry eye disease management (including IPL laser)
Ocular Emergencies
Dr Sherwin consults at Peninsula Eye Centre on Mondays, Tuesdays and Wednesdays.
Cataract and eye surgery is performed at Beleura Private Hospital, Mornington.
Dr Sherwin also practices at Bayside Eye Specialists, Brighton East
Dr Sherwin grew up in Melbourne and trained in eye surgery (ophthalmology) locally and internationally. Throughout his specialist training, he has been awarded numerous prestigious awards, scholarships and research grants.  Dr Sherwin has published over 50 journal articles, regularly reviews for several leading ophthalmology journals and has presented at local, national and international meetings and conferences.
University Education:
Bachelor of Medicine/ Bachelor of Surgery, MBBS(Hons), Monash University
Honours in Medical Science, BMedSc(Hons), Monash University
Master of Philosophy(MPhil), University of Cambridge, UK
Master of Surgery (MChir), University of Cambridge, UK
Doctor of Philosophy (PhD), University of Cambridge, UK
Ophthalmology (Eye Surgery) Training:
Ophthalmology Training at the Royal Victorian Eye and Ear Hospital, Melbourne
Fellowship of the Royal and Australian New Zealand College of Ophthalmologists (FRANZCO)
Fellowship in Cataract and Glaucoma Surgery, Oxford UK.
Postgraduate Diploma in Cataract and Refractive Surgery (with Distinction), PgDipCRS(Distinction), University of Ulster, UK
Current Academic and Teaching Positions:
Lecturer in Cataract and Refractive Surgery, University of Ulster, UK
Lecturer and Examiner, University of Melbourne Department of Optometry and Australian College of Optometry
Faculty member of GenEye, eye surgery training: https://www.geneye.org.au/
Public appointment at the Royal Victorian Eye and Ear Hospital, Melbourne where he supervises ophthalmology trainees and medical students
Memberships:
Royal and Australian New Zealand College of Ophthalmologists (RANZCO)
Australian Society of Ophthalmologists (ASO)
Australian and Society of Cataract and Refractive Surgeons (AUSCRS)
Asia-Pacific Association of Cataract and Refractive Surgeons (APACRS)
Awards and Scholarships:
Hector Maclean Scholarship, University of Melbourne
RANZCO Industry Scholarship
Avant Doctors-In-Training Research Scholarship
Queens' College University of Cambridge Travel Scholarship
Cambridge Commonwealth Trust Scholarship
Best Free Paper, International Society of Glaucoma Surgery
Charlie Bell Scholarship for Future Leaders
Monash University Medicine Summer Research Fellowship Scholarship
Australian Medical Students Association Research Fellowship
John Flynn Scholarship
Dr Eric Stock Prize in Medicine
Monash University Medical Undergraduate Society Volunteer Bursary
AMSA National Undergraduate Rural Health Conference Prize
Commonwealth Education Learning Scholarship
Community involvement & charitable work:
Currently, Dr Sherwin serves as Board Member of Cambridge Australia Scholarships
Previously, he has volunteered for the Fred Hollows Foundation (Kenya), Ronald McDonald House Charities (Australia) and Unite for Sight (Ghana).
Dr Sherwin has undertaken considerable eye research in low-income populations, including sub-Saharan Africa.