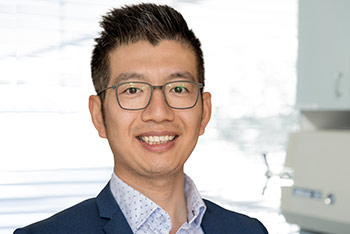 MMed, MBBS, BMedSc, FRANZCO
Dr William Tao is a general ophthalmologist, with subspecialty interest in cataract surgery and glaucoma surgery.
Dr Tao graduated from medicine at The University of Melbourne in 2012. He completed his internship and residency at Alfred Hospital, while concurrently completing his Masters of Medicine (Ophthalmic Science) at The University of Sydney. Dr Tao undertook his ophthalmology training at the Royal Victorian Eye and Ear Hospital and was awarded Fellowship at The Royal Australian and New Zealand College of Ophthalmologists (FRANZCO) in 2021. During his training he worked across most of the hospitals in Victoria and had the opportunity to volunteer at outback reach service to Alice Springs and Tennant Creek. He has also published in peer reviewed journals in areas of both medical retina and glaucoma research.
Following his comprehensive general ophthalmology training, Dr Tao has additional subspecialty training in medical and surgical glaucoma as well as general paediatric ophthalmology, completing two fellowships at The Royal Victorian Eye and Ear Hospital and Royal Children's Hospital. He regards himself as a general ophthalmologist who has broad experience in anterior segment surgeries including complex cataract, pterygium and glaucoma surgeries.
Dr Tao's Special Interests include:
Medical and Surgical Glaucoma
Cataract Surgery (Adult and Paediatric)
Pterygium Surgery
Age-related macular degeneration
Diabetic Retinopathy
Retinal laser
Laser Iridotomy
Laser Capsulotomy
Laser trabeculoplasties
Intravitreal injection for ARMD, Diabetes, Vein Occlusion
Dr Tao holds public consultant appointments at The Royal Victorian Eye and Ear Hospital, The Royal Children's Hospital and Eastern Health. He sees paediatric patients exclusively at Melbourne Children's Eye Clinic. He is dedicated to delivering comprehensive management to his patients and feels privileged to do so.
Dr William Tao is available for appointments at Peninsula Eye Centre on Fridays.